---
The University hall A1 (place of the seminar) is located at new campus by the Faculty of chemical technology at Polabiny, a Pardubice's quarter. There are several possibilities, how to reach the hall. Look at the following map to have an overview.
The area in front of the railwaystation is at the moment undergoing reconstruction and the bus stops right outside of the station are not operational. There is an coutnersy bus number 30 that will take you to the city center free of charge. You can then take number 3 troleybus towards University. The number 30 bus leaves from what used to be first stop of the troleybus number 3 (walk towards center, pass the post office on your left, cross on the lights and you are at the bus stop).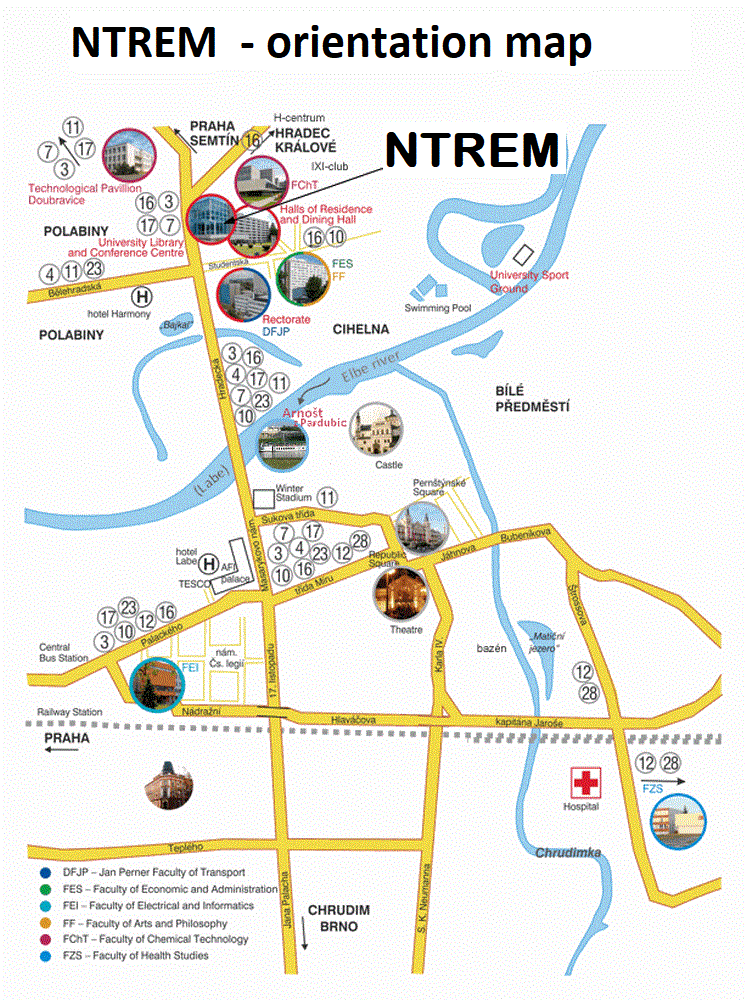 Notes: Numbers in circles shows public transport vehicles numbers;
"H" in circle show hotels
Taxi
The taxi stations are located just outside the railway station and also at several places of city centre. The most known is located at the beginning of Trida Miru. It can be quite difficult to flag down taxi on the street as it is not a habit in Pardubice. All the drivers should know where is the University Hall, however it can be sometimes difficult to explain your destination. We recommend taking the map with you. The total price of the taxi ride should not be above 200 CZK (railway - Euro, railway - University).

| | |
| --- | --- |
| Phones: | 775 123 999 |
| | 800 666 660 |
Public transport
The university hall can be reached by a public transport. From city centre you can use trolleybuses number 3 and 17. One way ticket costs about 22 CZK and can be purchased at newsdealers or directly from bus driver, where it is a little more expensive (30CZK). You have to leave the bus at "Polabiny - Hradecka " street, the second stop after the bridge over Labe river.
Walk
The university hall can be, of course, reached on foot, because it is about 1300 m from the city centre. Aim to the North direction, along the Hradecka Street. You should cross Pavel Wonka's bridge and walk straight ahead for about 1000 m to a quite big crossroad (Hradecka, Belehradska and Studentska streets), from which the university hall is already visible.