The closest international airport is Prague - Ruzyne (PRG) (link). The city of Pardubice is approximately 140 km from the airport. There are several possible ways how to travel to Pardubice.


The most up-to-date information is on the web of the airport.
Public transport
There are at least two possibilities how to reach Pardubice by train. First is to use a Pendolino Supercity train, which departs from main Railway station. The second one is to use a bit slower Eurocity or Intercity train, which also departs from the station Prague, main railway station (Praha, Hlavni nadrazi).
For the quickest transport to train stations we recommend using the Airport Express. The bus as well as the bus stop is marked with an abbreviation "AE". A fare of about CZK 100 is charged on this route. Here you can find information about Airport express.
---
This trip takes about - 45 minutes to get to Prague main railway station and 80 minutes to get to Pardubice. The total cost is less than 300 CZK. When you exit the customs area you will see ticket office of Prague City Transport where you can buy tickets for 40 CZK valid 90 minutes from the time you mark it on the bus (In each bus you will find yellow box that prints time and date on the ticket after insertion. Traveling with unmarked ticket can be very expensive. The controls are quite frequent.) With this ticket walk out of the terminal, cross the street and turn left. You will find bus stop of line 119 (fig. 1). The buses leave approx. every 5-10 minutes The bus line 119 ends at station Nadrazi Veleslavin, where you change on subway (underground, tube). The Nadrazi Veleslavin is the end stop of the subway line A so you do not have to worry about direction, trains leave only the right way. At station Muzeum change to line C direction Ladvi and get off at the next stop (the map of the subway lines is displayed on fig. 2). This is the Prague Main Railway Station (Hlavni nadrazi). One ticket can be used for the entire journey to the center by bus & metro.
You can also take Airport Express bus which connects airport and main train station (100CZK). Ask about the departures at the information counter at the airport. Other information is summarized here .
Trains to Pardubice leave about once per hour, for detailed schedule please check electronic timetables. Although there is a possibility to use a rapid (R) train, which is cheaper, it is recommended to take Supercity (SC), Eurocity (EC) or Intercity (IC) train for comfortable and fast journey. The cost of the ticket is under 200 CZK. Many discounts apply to groups of travelers (groups as small as 2 people). Be aware that there are three rail companies - Czech Rail (most trains), Regio Jet (yellow trains) and Leo Express. All of them are good, however carriers compete with each other and the ticket is therefore always valid only on the train of the given carrier.
Fig. 1: Relocation of bus stops at Ruzyne airport
---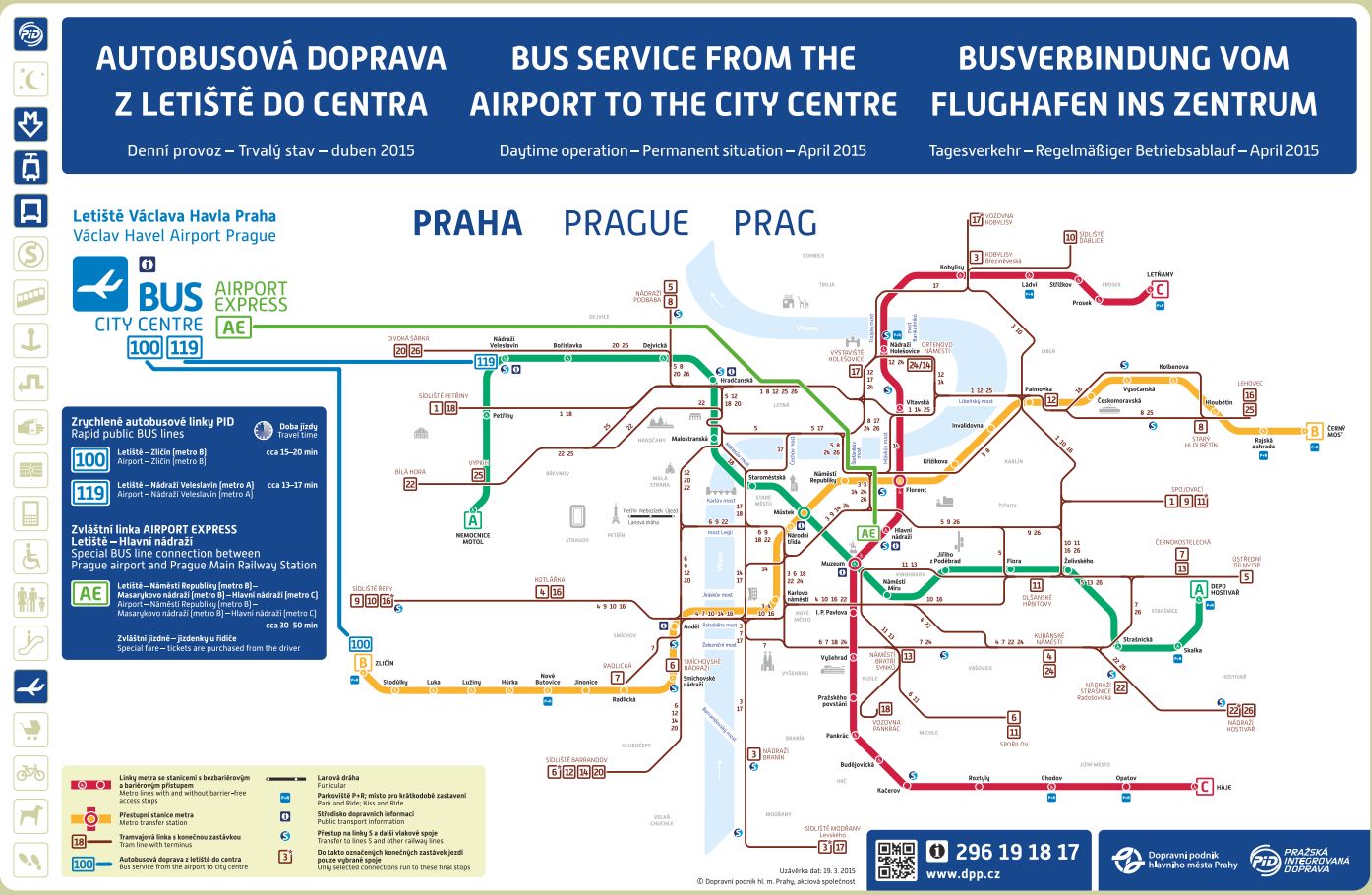 Fig. 2: Prague subway scheme
It is also possible to use taxi from airport to Prague Main Station. The cost should not exceed 700 CZK (FIX TAXI and Taxi Praha - taxi right out of the terminal costs around 550 CZK). Make sure you ask the driver for the price before you get in. The honesty of taxi drivers is improving however be sure to ask for the price before your journey. They should be able to give estimate.
Private transport
Limited number of seats
Each year we have been able to provide one or two minibuses that pick up people at the airport and bring them to Pardubice. This service is intended for main sponsors, invited speakers, people with health problems and first time visitors. The reservation is necessary.
You can rent a car at the airport. The phone numbers are listed on the airport web site. It is recommended to book in advance. On your way from airport to Pardubice you will have to pass through the Prague. Expect traffic jams.
There is an overview map at figure 3. For more details please visit this link

Fig. 3: Prague-Ruzyne to Pardubice route